Ronald William George "Ronnie" Barker, OBE was an English actor, comedian and writer. He was known for roles in British comedy television series such as Porridge, The Two Ronnies and Open All Hours.
Barker began acting in repertory theatre and decided he was best suited to comic roles. He had his first success at the Oxford Playhouse and in roles in the West End including Tom Stoppard's The Real Inspector Hound. During this period, he was in the cast of BBC radio and television comedies such as The Navy Lark. He got his television break with the satirical sketch series The Frost Report in 1966, where he met future collaborator,Ronnie Corbett. He joined David Frost's production company and starred in ITV shows including a short film.
After rejoining the BBC, Barker found fame with the sketch show The Two Ronnies  (1971–1987), with Ronnie Corbett. He starred in the sitcoms Porridge, its sequel  Going Straight and Open All Hours. He wrote comedy under his own name and the pseudonym Gerald Wiley, which Barker adopted to avoid pre-judgements of his talent. He won a BAFTA for best light entertainment performance four times, among other awards, and received an OBE in 1978.
Later television sitcoms such as The Magnificent Evans and Clarence were less successful and he retired in 1987. He opened an antiques shop with his wife, Joy. After 1999, he appeared in smaller, non-comic roles in films. He died of heart failure on 3 October 2005, aged 76.
Early Life
Edit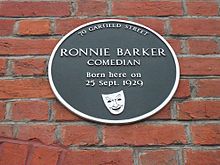 Barker was born Ronald William George Barker on 25 September 1929 in Bedford, Bedfordshire, to Leonard (known as "Tim") and Edith (known as "Cis") Barker. Barker's elder sister Vera was born in 1926 and his younger sister Eileen was born in 1933. His father was a clerk for Shell-Mex, and this job saw the family move to Church Cowley Road in Temple Cowley, Oxford when Barker was four. Barker's biographer Bob McCabe described his childhood as "a happy time, marred by no ructions or family tensions, apart from the occasional wet sock." As a child, Barker enjoyed dressing up, particularly in his father's pierrot outfit, as well as films, comics and animals. He developed a love of the theatre, often attending plays with his family. The first play he saw was Cottage to Let and he once skipped school to see Laurence Olivier in Henry V. He frequently stood outside stage-doors to collect autographs, his first being the actress Celia Johnson.
Barker grew up in the Florence Park area of Temple Cowley, Oxford, and went to Donnington Junior School, Florence Park, Oxford and then the City of Oxford High School for Boys. Barker's chemistry textbook at Oxford was previously owned by T.E. Lawrence. He found his talent for humour at school and developed his musical ability by singing in the choir at St James's, his local church. He got in to the sixth form a year early after gaining the School Certificate but he felt what he was learning would be of no use to him in later life and so left as soon as he could. After leaving school he trained as an architect but gave it up after six months, feeling he was not skilled enough. Barker took his sister Vera's job as a bank clerk at the Westminster Bank (after she had left to become a nurse). Barker harboured dreams of becoming an actor, and took up amateur dramatics, although initially he just saw the pastime as a chance to meet girls. For 18 months while at the bank he worked as an actor and stage manager, making his first appearance in A Murder Has Been Arranged as the musical director of the play-within-a-play. Eventually he gave up his job to become a professional actor. His father did not support his acting ambition.
The Two Ronnies Edit
Barker appeared in The Two Ronnies, a sketch show which aired for twelve series and eight specials between 1971 and
1987, and rose to immediate success. Barker wrote much of the show's material, roughly three-quarters, again under the name Gerald Wiley. He was heavily involved with the show's production, especially the serial. Corbett (who starred in the show with him) explained that Barker was a "perfectionist" and "as he wrote it Ronnie knew how he wanted every shot to look."
The show was considered a "national institution" with audiences of between 15 and 20 million regularly tuning in to its 93 episodes. Barker won the BAFTA for Best Light Entertainment Performance in 1971 and 1977 for the show. The Two Ronnies ended with the 1987 Christmas special.
Other work
Edit
Following the success of The Two Ronnies, the BBC let Barker decide what he wanted to do. The Two Ronnies took up one third of a year to produce, allowing time for Barker and Corbett to each do a solo project. Barker's opted to produce some sitcom pilots shown as part of 1973's Seven of One. Two of these pilots, Open All Hours (written by Roy Clarke) and Prisoner and Escort (written by Dick Clement and Ian La Frenais) became series. 
Barker opted to end Porridge after two series and instead focused on Open All Hours, alongside David Jason, before working on spin-off sitcom Going Straight.
Personal Life
Edit
Barker met Joy Tubb in Cambridge while she was a stage manager for two plays he was in. They married nine months later in July 1957 and they had three children: two sons, Larry (born 1959) and Adam (born 1968), who became an actor, and one daughter,Charlotte (born 1962), who became an actress. Larry was named after Barker's idol Laurence Olivier. The family lived in Pinner for many years; and subsequently in a converted mill in Dean, Oxfordshire. According to Corbett, Barker was "first and foremost a family man." Joy died in January 2011, aged 78.
Barker received an OBE in 1978. He was an avid collector of antiques, books and posters and amassed a collection of over 53,000 postcards; he produced several compilation books of them including Ronnie Barker's Book of Bathing Beauties, A Pennyworth of Art and Sauce. Barker rarely appeared in public, and when he did it was almost always in character. He once said "I've always known I haven't a personality of my own, I have to be someone else to be happy. That's why I became an actor, I suppose."
Barker's health rapidly declined after the filming of The Two Ronnies Sketchbook (2005). He died of heart failure at the Katherine House hospice in Adderbury, Oxfordshire, on 3 October 2005, aged 76, with Joy by his side.
Barker was cremated at a private humanist funeral at Banbury Crematorium, which was attended only by family and close friends. A public memorial service for Barker was held on 3 March 2006 at Westminster Abbey, with some 2,000 people in attendance. Corbett, Richard Briers, Josephine Tewson, Michael Grade and Peter Kay all read at the service, while others in attendance included David Jason, Stephen Fry, Michael Palin, Leslie Phillips, Lenny Henry, Dawn French and June Whitfield. 
Filmography
Edit
Films
Year
Film
Role
Notes
1958
Wonderful Things!
Head waiter[101]
Uncredited
1962
Kill or Cure
Burton
1963
The Cracksman
Yossle
Doctor in Distress
Man at railway station ticket counter
Uncredited
Father Came Too!
Josh
1964
A Home of Your Own
Cement mixer
The Bargee
Ronnie
1965
Runaway Railway
Mr. Galore
1967
The Man Outside
George Venaxas
1968
A Ghost of a Chance
Mr. Prendergast
1969
Two Off the Cuff
1971
The Magnificent Seven Deadly Sins
Unnamed character
In "Sloth" segment
1976
Robin and Marian
Friar Tuck
1979
Porridge
Norman Stanley Fletcher
Television
Year
Show
Role
Notes
1956
I'm Not Bothered
"Bit Part"
Two episodes
1960
The Terrible Choice
2nd Murderer
Episode 1.7: "Macbeth: Part 2"
1960–1964
It's a Square World
Various characters
Two Episodes
1961
Citizen James
Unknown
Episode 2.7
1961–1963
Faces of Jim
Various characters
Series 1 named The Seven Faces of Jim


Series 2 named Six More Faces of Jim
Series 3 named More Faces of Jim
Barker appeared in several episodes in Series 1 and 2 and all six of Series 3

1962
Benny Hill
Chef
Episode 1.2: "A Pair of Socks"
The Rag Trade
Mr Goodwin
Episode 2.13: The Bank Manager
ITV Play of the Week
Bundles
Episode 8.5: "The Second Chef"
Drama 61–67
Harrison
Episode 2.17: "The Frightened Sky"
1962
ITV Television Playhouse
Pickle's O'Toole
The Pinkness of It All
1962, 1972
Christmas Night with the Stars
Various Characters
Two Episodes
1963
BBC Sunday-Night Play
Henry Wallace
The Holly Road Rig
1964
How to be an Alien
Various voice roles
Six episodes
Sykes and A...
Tramp
Episode 7.6: "Sykes and a Log Cabin"
Bold as Brass
Mr. Oakroyd
Four episodes
1965
Armchair Theatre
Unknown
Episode 5.15: "The Keys of the Cafe"
The Walrus and the Carpenter
Unknown
Episode 1.4: "Luther and the Golden Fleece"
A Tale of Two Cities
Jerry Cruncher
Seven episodes
Gaslight Theatre
Various characters
Six episodes
Theatre 625
Crowther Rimington
Episode 3.13: "Portraits from the North: Bruno"
Barney Is My Darling
The 2000 Year Old Man
1966
Foreign Affairs
Grischa Petrovich
The Saint
Alphonse
Episode 5.9: "The Better Mousetrap"
1966–1967
The Frost Report
Various characters
28 episodes
1967
The Gamblers
Unknown
Episode 1.10: "The Glory of Llewellyn Smiley"
The Avengers
Edwin Cheshire
Episode 5.8: "The Hidden Tiger"
Before the Fringe
Various characters
Six episodes[101]
1968
The Ronnie Barker Playhouse
Various characters
Six episodes
1969
The Coward Revue
TV Movie
1969–1970
Frost on Sunday
Various characters
Hark at Barker
Lord Rustless
15 episodes
1969, 1971, 1975
Play of the Month
Stephen Spettigue


Bottom
Henry Ormonroyd

Episode 5.2: "Charley's Aunt"


Episode 7.1: "A Midsummer Night's Dream"
Episode 11.4: "When We Are Married"

1970
Futtocks End
General Futtock
TV film
Not Only... But Also
Poets Cornered segment
Episode 3.5
'Wiltons' – The Handsomest Hall in Town
Music Hall Performer
1971
Six Dates with Barker
Various characters
Six episodes
The Ronnie Barker Yearbook
Various characters
Ronnie Corbett in Bed
Various characters
1971–1987
The Two Ronnies
Various characters
93 episodes
1972
His Lordship Entertains
Lord Rustless
Seven episodes
Comedy Playhouse
George Idle


Johnnie Wetherby

Episode 12.1: "Idle at Work"


Episode 14.2: "Franklyn and Johnnie"

1973
Seven of One
Various characters
Seven separate pilots
1974–1977
Porridge
Norman Stanley Fletcher
20 episodes
1976
The Picnic
The General
TV film
1976–1985
Open All Hours
Albert Arkwright
25 episodes
1978
Going Straight
Norman Stanley Fletcher
Six Episodes
1979, 1988
The Two Ronnies in Australia
Various characters
1980
Rubbish Tips
Director of Rubbish
Short
1982
By the Sea
The General
TV film
1984
The Magnificent Evans
Plantagenet Evans
Six episodes
1988
Clarence
Clarence Sale
Six episodes
1999
The Nearly Complete and Utter History of Everything
Renaissance Man
2002
The Gathering Storm
David Inches
TV film
2003
My House in Umbria
The General
TV film
Life Beyond the Box: Norman Stanley Fletcher
Norman Stanley Fletcher
Mockumentary
2005
The Two Ronnies Sketchbook
Various characters
Seven episodes




Community content is available under
CC-BY-SA
unless otherwise noted.