Ronald Balfour "Ronnie" Corbett, CBE, was a Scottish actor and comedian who had a long association with Ronnie Barker in the television comedy series The Two Ronnies. He achieved prominence in Sir David Frost's 1960s satirical comedy programme The Frost Report and later starred in the sitcoms Sorry! and No – That's Me Over Here!.
Early life and career
Edit
Ronnie Corbett was born in Edinburgh in 1930, the son of London-born Annie Elizabeth (Main) and William Balfour Corbett, master baker. He has a brother about six years younger, and a sister about ten years younger than himself. Corbett was educated at the Royal High School in the city, but did not attend university. After leaving school, he decided he wanted to be an actor while performing in amateur theatricals at a church youth club. However, his first job was with the Ministry of Agriculture.
He then did national service with the Royal Air Force, during which he was the shortest (in height) commissioned officer in the British Forces. A former Aircraftman 2nd class, he was commissioned into the secretarial branch of the RAF as a pilot officer (national service) on 25 May 1950. He was given the service number 2446942. He transferred to the reserve (national service list) on 28 October 1951, thereby ending his period of active service. He was promoted to flying officer on 6 September 1952.
Rise to Fame
Edit
It was in The Frost Report (1966–67) that Corbett first worked with Ronnie Barker. The writers and cast were mostly Oxbridge graduates from the Footlights tradition. Corbett said he and Barker were drawn together as twogrammar school boys who had not gone to university. The show was a mixture of satirical monologues, sketches and music. Corbett and Barker were beginning to be thought of as a pair. They appeared with John Cleese in one of the most repeated comedy sketches in British television, the Class sketch, in which Corbett got the pay-off line: "I get a pain in the back of my neck."
Continuing under Frost, Corbett starred in No – That's Me Over Here!, a sitcom written by Frost Report writers Barry Cryer, Graham Chapman and Eric Idle (ITV 1967–70). Cryer and Chapman wrote two follow-ups: Now Look Here (BBC 1971–73) and The Prince of Denmark (BBC 1974). Corbett also appeared in Frost on Sunday (ITV 1968) and hosted The Corbett Follies (ITV 1969).
The Two Ronnies Edit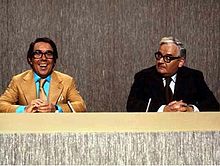 His BBC television comedy show with Ronnie Barker, The Two Ronnies, lasted from 1971 to 1987, an was considered a "national institution." Barker and Corbett performed sketches and musical numbers.
Corbett presented a monologue sitting in a large easy chair (emphasising his small size), and usually wearing a Lyle & Scott golfing V-neck sweater, he would tell a simple joke over several minutes, often allowing himself to appear to lose his train of thought.
Personal Life
Edit
Corbett married actress and dancer Anne Hart in 1965; they have two daughters, actresses Emma and Sophie Corbett. Their first child, Andrew, had a heart defect and died, six weeks old, at St Thomas' Hospital. He lived in Shirley, Croydon, for many years. He also had a home in Gullane, East Lothian, in Scotland. He was a beekeeper and kept hives at his second home in East Lothian.
Corbett was a golfer and appeared in celebrity and pro–am events; in 2009 he made a documentary with Colin Montgomerie in which they played at Gleneagles. A keen cricket fan, Corbett was also a past president of the cricketing charity the Lord's Taverners (1982 and 1987). He also supported his local football club, Crystal Palace, as well as his hometown club, Heart of Midlothian.
Filmography
Edit
Television
Edit
Year
Title
Role
1952
You're Only Young Twice (film)
Student
1953
Rheingold Theatre
Young Hooligan
1955
The Vise
1957
Sheep's Clothing
Valet
1963
The Saint
Call Boy
1966-1967
The Frost Report
Various Roles
1967-1970
No – That's Me Over Here!
Ronnie
1969
Hark at Barker
1970
Jackanory
Storyteller
1971-1973
Now Look Here
Ronnie
1974
The Prince of Denmark
Ronnie
1971-1987
The Two Ronnies
Himself & Various characters
1981-1988
Sorry!
Timothy Lumsden
1994-1996
Small Talk
Host
1998
Timbuctoo
Narrator &


All Characters Except Giant Squeak

1998
The Ben Elton Show
Himself
2000
Cinderella ITV Panto
Griselda (One of the Ugly Sisters)
2004
The Keith Barret Show
Himself With His Wife
2004
Monkey Trousers
Various roles
2005
The Two Ronnies Sketchbook
2006
Extras
Himself
2006
Little Britain Abroad
Himself
2008
Love Soup
Gordon Baxter
2009
Sarah Jane Adventures (Comic Relief)
Ambassador "Rani" Ranius/Slitheen
2009
Strictly Come Dancing
Host
2010
Ant and Dec's Push The Button
Voiceover
2010
The One Ronnie
Himself
2011
Ronnie Corbett's Comedy Britain
Himself
2013
Ronnie's Animal Crackers
Himself




| Year | Title | Role |
| --- | --- | --- |
| 1956 | Fun at St. Fanny's | Chumleigh |
| 1957 | Rockets Galore! | Drooby |
| 1962 | Operation Snatch | Soldier (uncredited) |
| 1967 | Casino Royale | Polo |
| 1970 | Some Will, Some Won't | Herbert Russell |
| 1970 | The Rise and Rise of Michael Rimmer | Interviewer |
| 1973 | No Sex Please, We're British | Brian Runnicles |
| 1997 | Fierce Creatures | Reggie Sea Lions |
| 2010 | Burke and Hare | Captain Tam McLintoch |
Community content is available under
CC-BY-SA
unless otherwise noted.